---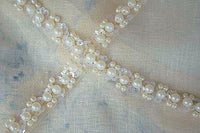 Crick to Enlarge ** クリックして拡大
Sales unit  *  40cm
Size  *   net width 6cm
      Pearl sequin width 2cm
Large pearl diameter 8mm
Small pearl diameter 4mm
sequin diameter 7mm

Color * Cream Off White (Pearl)
Material * Unknown

Category * Premium
Comment *

Off-white pearl trim with translucent sequins of the same color on a cream-colored net.

The contrast between large pearls with a strong presence and small pearls is cute,
Soft net wraps gently.

Perfect for gorgeous party bags and dress accents.
Wear it on a wide grosgrain ribbon for a party dress belt.
It enhances the presence in a gorgeous scene and makes it even more attractive.