---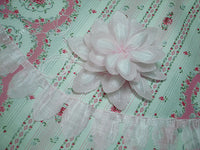 Crick to Enlarge ** クリックして拡大
107cm  28 petals

Or 85cm  22 petals

Width 5.2cm

Maximum petal width 3.6cm

pink
Material
Nylon



A ribbon that turns into a flower

There is a thread, so if you pull it

in the shape of a flower

The flower in the image has cotton in the petals,

Put a small candy in it and it will be a gift

At 90cm, the flower will be the size of the image.

The back must be sewn or glued.

If it has 8 petals, it will take shape just by pulling it.

you can make pretty flowers

It is cute if you decorate the flower core with a small flower motif.